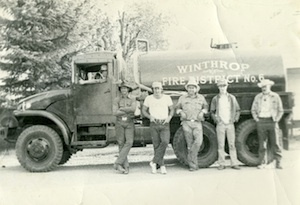 We are currently gathering our own history and need your help!
If you have photos, stories or memorabilia you can share with us!
UPDATE: This is Winthrop's first water tender. The guys in front from left to right: Dave Cother, Chief Corky Scharf, Don Waller and Chuck Hotchkis.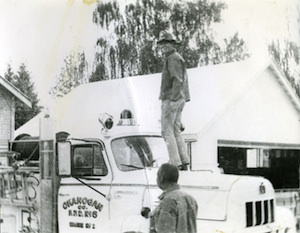 Do you have information on the date or names of the people in this photo?
If so, please contact John Owen.
UPDATE: Taken in front of Winthrop Station with corner of the original building. Don Waller, just out of high school, is standing on top of the 56 International truck. Corky Scharf is standing below.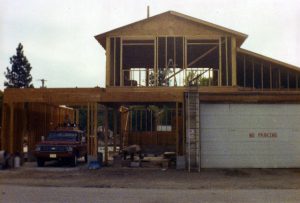 The early phase of construction for the current station.
If you have other photos or information about stations BEFORE our Englar Street location, please contact John Owen at
jdoc@methownet.com
or call 509-996-3656